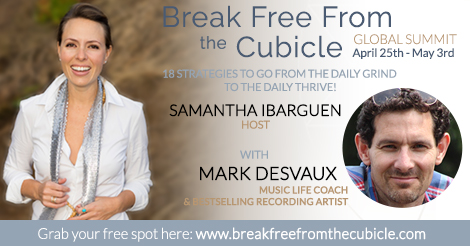 I'm honored to be interviewed this Monday – Apr 25th – at the Break Free From the Cubicle Global Summit. You can register for free here:
Break Free From the Cubicle Global Summit
Here's the lowdown…
What if you could wake up every day and get paid to do what you love?
How would your life change if your job was actually an expression of what are you passionate about?
When we are lit up by what we do every day, and when we love our work, our whole life improves: relationships thrive, we are less stressed, body pain disappears, health improves, our sex life is better! We are actually happy at the end of the day.
If you are done with your daily grind, tired of being in pain all the time from stress at work, and ready to step into work that is fulfilling and that makes a difference in this world, then I invite you to an exciting and powerful virtual event.
This is an opportunity for you to take your destiny into your own hands, and start to make a difference for yourself right now.
It's Break Free From the Cubicle Global Summit – a free, virtual event where 18 experts give you our gold in tools, tips, and strategies to bust out of the job you hate and create the job of your dreams. Break Free From the Cubicle Global Summit
Invited by my colleague, Samantha Ibarguen, I am excited to be a part of this awesome event, launching April 25th.
During this summit, you'll learn how to clarify your passion and purpose, move through the kind of fear that stops you in your tracks, uncover blind spots that keep you from living your full potential, create plans and structures to take you to the next level, and so much more.
Take advantage of this event and get the advice and tested strategies from our panel of experts; we are all a stand that you are thriving in work and play, and making the difference you were born to make.
Sign up today to reserve your spot!
It's time for you to live every day lit up and fully self-expressed, and it's time for you to be playing at the level you were always meant to. The Break Free From the Cubicle Global Summit is the place to start. Break Free From the Cubicle Global Summit
I look forward to connecting with you at the summit!