"Do you dream of having success in music?
 I've discovered that the #1 reason most people fail is they spend
all their time
working on their
music
and
no time
working on
themselves
. It's time to invest in yourself and
discover the 7 Secrets
you need to
reach your full potential and make your musical genius soar."
Is your dream is to make a living from music and spend your days doing what you love? Find out the essential steps you need to take to make your dream a reality in this ground-breaking seven week online course. Packed with video training and workbooks, it will change the way you look at your music and your life.
[content_box_blue width="85%"]
You will learn:
[green_tick_1_list width="100%"]
How you can avoid the 10 biggest mistakes ALL unsuccessful musicians make.
How you can get the recognition you know you deserve.
Why you already have all the talent you need to succeed.
What you really want to achieve with your music and how to make it happen.
What role your musical icons play in your future success.
How you can create your future right now.
What your ultimate dream is in music.
How you can think bigger than you ever believed possible.
How you can change the way you think about your music.
Why every song plays a role in your journey.
How you can create your own path and not follow the crowd.
How you can really believe in yourself and your music.
Why criticism and rejection are your best friends.
How you can finish a song and an album.
How you can reclaim 5 albums worth of time.
How you can learn the secrets of superstars such as Adele.
The 7 actions you must take RIGHT NOW to make a huge step closer to realising your dreams.
and MUCH, MUCH more!
[/green_tick_1_list]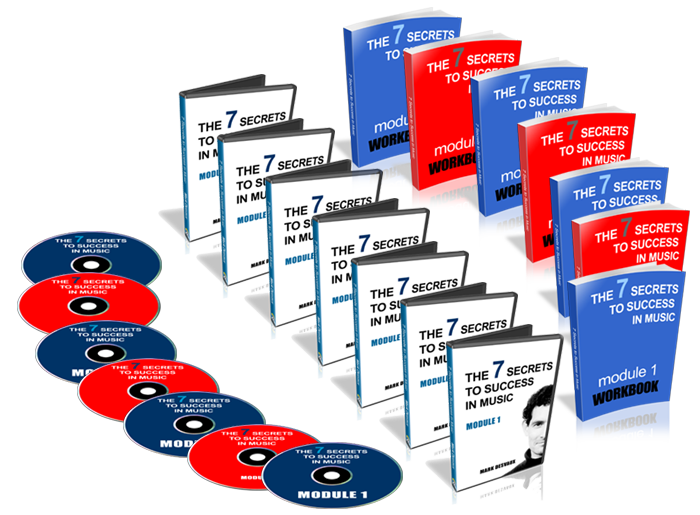 The 7 Secrets to Success in Music
Your Roadmap to creating the life you've always dreamed of.
[/content_box_blue]
| | | |
| --- | --- | --- |
| | Join Mark Desvaux, the world-leading Music Life Coach, Bestselling Recording Artist (Urban Myth Club), Record Label owner and Publisher, to discover The 7 Secrets to Success in Music. Mark has coached hundreds of musicians from world-touring artists, producers and DJs to musicians, entrepreneurs and most recently the mentor of UK and US #1 artist Ed Sheeran. | |
With no formal music training or theory and little more than a dream, Mark has already achieved the following:[green_tick_1_list width="100%"]
Two bestselling self-released albums.
Three performances at Glastonbury, the world's biggest music festival (Coldplay, U2, Radiohead, Muse), as well as other major festivals.
Major radio airplay worldwide, including #1 playlist positions and live sessions (Xfm / Radio 1 / Radio 2 and more).
Music features on major films and TV, including most recently Sigourney Weaver's US Network hit "Political Animals".
Interviewed over 500 times on national TV, radio, newspapers and magazines.
Over 20 Compilation album licenses.
Collaborates with leading Hollywood film and games composer (Narnia, Shrek, Call of Duty).
Self-taught in piano, guitar, bass and music production.
Reason Featured Artist alongside Black Eyed Peas, Beastie Boys, Prodigy, Owl City and others.
iTunes Featured Playlist Artist.
Set up his own Record Label & Music Publishing Companies.
Created a 7-figure web business with just £100.
Set up the world's biggest Music Industry Work Experience programme, mentoring over 400 students with Graduates earning jobs in Major Labels and managing multi-million selling artist.
[/green_tick_1_list]


Mark reveals for the first time his 7 Secrets you MUST know to give yourself the best possible advantage. Private coaching sessions with Mark cost well over $1,000, so this course is your unique and cost-effective opportunity to become part of an exclusive club of amazing artists and musicians who have benefited from Mark's twenty-year experience in recording, performing, coaching and mentoring. And all for less than the cost of six music lessons.

WEEK 8 BONUS – For a limited period, you will also get nearly FIVE HOURS of Video workshops with Mark (worth $395)
WORKSHOP 1:  HOW TO GET SIGNED – The 10 Golden Rules
WORKSHOP 2: HOW TO GET RADIO AIRPLAY

WORKSHOP 3: HOW TO GET BOOKED FOR MAJOR FESTIVALS INCLUDING GLASTONBURY
WORKSHOP 4: HOW TO GET YOUR MUSIC ON FILM & TV

WORKSHOP 5: HOW TO START YOUR OWN RECORD LABEL
[testimonial3 author="Melissa Abul" + pic="https://www.musiclifecoach.com/wp-content/uploads/2012/08/Melissa-Abul.jpg"]"Mark gives me so much positive energy which leaves me literally energised, giving me the inner strength to push myself and make the best of my life."[/testimonial3]
[testimonial3 author="Peter Govini" + pic="https://www.musiclifecoach.com/wp-content/uploads/2012/08/Peter-G.jpg"]"Mark is brillant! I get so much out of his training and am now making decisions in my life to help me move forward."[/testimonial3]
[testimonial3 author="Sally Filmer" + pic="https://www.musiclifecoach.com/wp-content/uploads/2012/08/Sally-F.jpg"]"Mark is fantastic and very motivating. I feel so much more confident about the next 12 months and Mark has helped me put together some amazing targets to achieve."[/testimonial3]
[testimonial3 author="Michael Terry" + pic="https://www.musiclifecoach.com/wp-content/uploads/2012/08/Michael-T.jpg"]"Mark's insights are fascinating and eye-opening. Be prepared to look at your life in a whole new way."[/testimonial3]
[guarantee_box_1 title=""]
Our 60 Day 100% Money Back Guarantee
"Try my course with absolutely no risk!"
If for any reason you are not happy with ANY aspect of the course and its contents, simply contact us and I will immediately refund 100% of your money, no questions asked!
– Mark Desvaux, Founder, 4000 Saturdays
[/guarantee_box_1]
Register now and start the course today!
[secure_order_form_box_1]
WEEK 1 of THE 7 SECRETS TO SUCCESS IN MUSIC
[/secure_order_form_box_1]
Major Label Artist Price: $997
[/content_box_light_blue]